1.

Metadata schemas in the ManGO portal#

This article describes the ManGO portal functionalities related to metadata schemas: how to design them and how to apply them. Users who might want to design their own schemas independently and load them via JSON, as well as developers interested in implemented this feature outside the portal, are directed to the technical specifications.

One crucial principle of the metadata schema functionality in the ManGO portal is that schemas that can be used to apply metadata cannot be modified. In other words, for a schema to be used in metadata annotation it must be fixed and stable; a schema that is undergoing changes cannot reliably be used for annotation. However, during the course of a research project it might be necessary to update a schema, and it would be impractical to create whole new schemas with different names for every such change. In order to tackle this issue, the ManGO portal implements a lifecycle via versioning and tags. In short, a schema can evolve and its evolutions can be registered as new versions of the same schema. Each version can have one of three statuses: (1) 'draft', while it is being designed and edited; (2) 'published', when it is ready to be implemented; and (3) 'archived', when it should not be used anymore, maybe because a new version has been published.

In this context, the rest of this document will walk you through the process of creating, managing and applying metadata schemas. First, Section 1 will illustrate how to design a new schema from scratch and save a draft. Then, Section 2 will briefly discuss the stages of a schema in more detail, including how they can be managed in the Metadata Schema Manager (the "Metadata schemas" tab in the ManGO portal). Finally, Section 3 will show how a published schema can be used to annotate metadata.
1.2.

Versioning and lifecycle#

Once you are satisfied with your draft is ready to be applied, you can publish it. This will update the tab so that the orange badge "draft" is replaced with a green one labeled published, and change the options provided in the top right buttons shown in Fig. 1.15. The "View" tab, which shows the form as it will appear when applying the metadata schema, is the same as for a draft version, but the rest of the buttons have changed.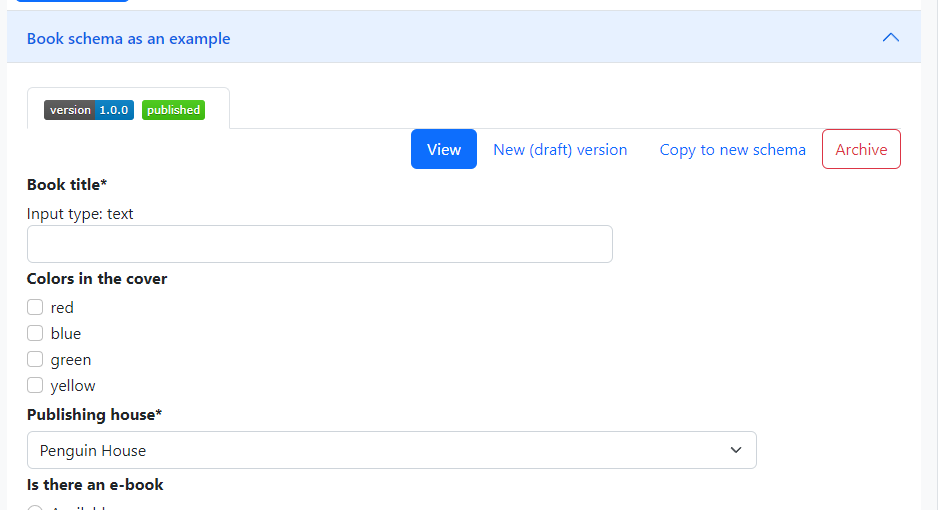 The buttons New (draft) version and Copy to new schema open editors like Edit did for the draft schemas. The difference between these two editors is that the former creates a new draft for the same schema and the latter starts a whole other schema with the same contents. Saving a new draft will create a new version (in this case 2.0.0) and show it in a second tab next to the published version: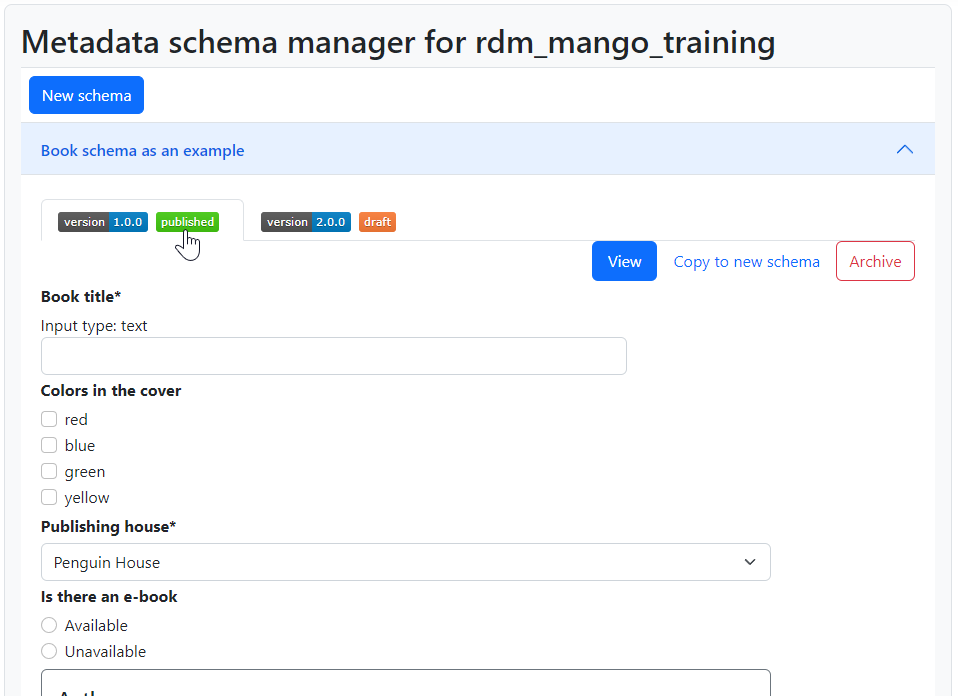 While a draft version exists, the New (draft) version button is absent. When creating this draft, the Schema ID and label are fixed and cannot be edited. In contrast, in the editor in Copy to new schema (shown in Fig. 1.17) these fields are empty and, in fact, it is not possible to reuse the same Schema ID we had before. Use cases for this feature are derived schemas, i.e. schemas that share many fields with another schema but represent a different thing. The name and version of the published schema it originated from is recorded, but nothing is done with this information yet.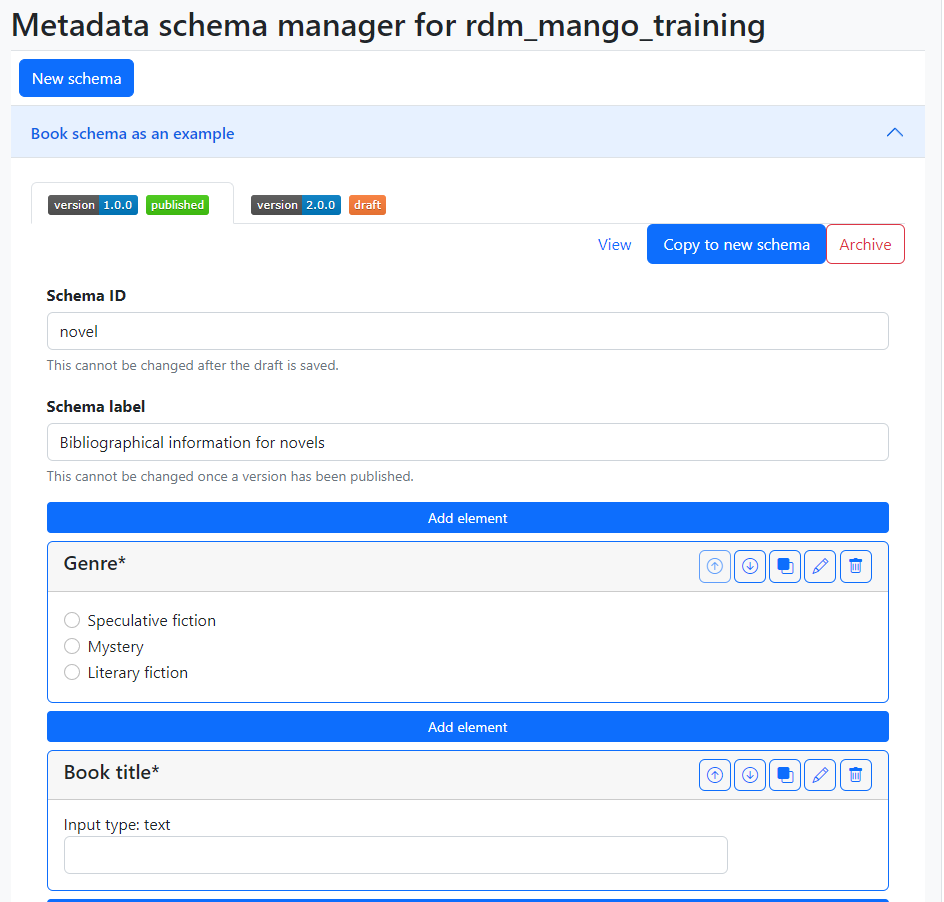 When this copy is saved, a new schema is created, like when we edit one from scratch in "New schema". This generates a new accordion item with its own "draft" tab containing the version that was just created. Note that it is also possible to publish a version of a schema, even a copy from a published schema, without saving it as a draft first. In Fig. 1.18 we could decide to view and edit this new schema or the previous one by clicking on their name, which expands the appropriate tabs. If we click on "Book schema as an example", we'll see that the "Copy to new schema" section has been reset to the original contents of the published version of this schema.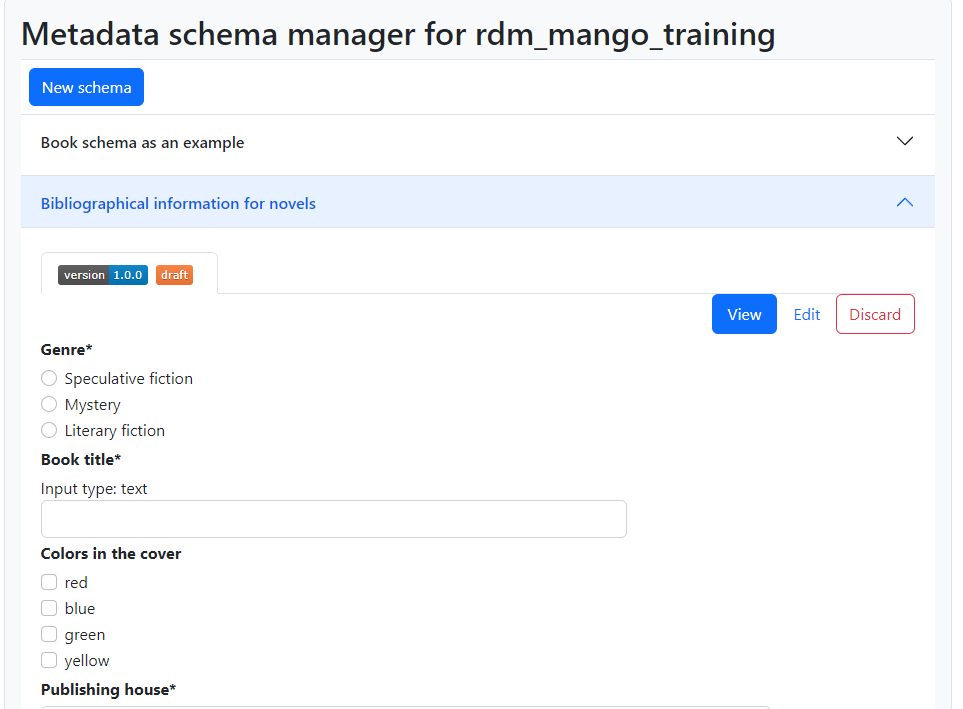 Archiving a published version of a schema will prevent it from being implemented, but won't delete it. In the current version of the Metadata Schema Manager, archived versions are not visible either. However, they still exist, and it is not possible to create a new schema with the same ID.
1.3.

Apply metadata with a schema#

In order to apply a metadata schema, we first have to move to the Collections tab of the ManGO portal and select the collection or data object to which we want to add metadata. In the Metadata tab, a dropdown will appear with the selection of published schemas: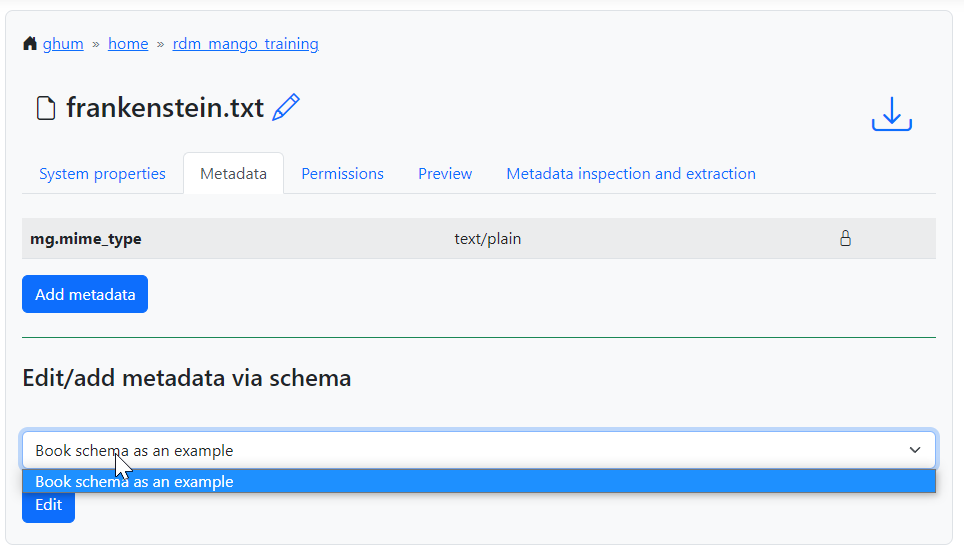 Clicking on Edit will open a page with the following form, which is very similar to what we could see in the "View" tab of the published schema (Fig. 1.15):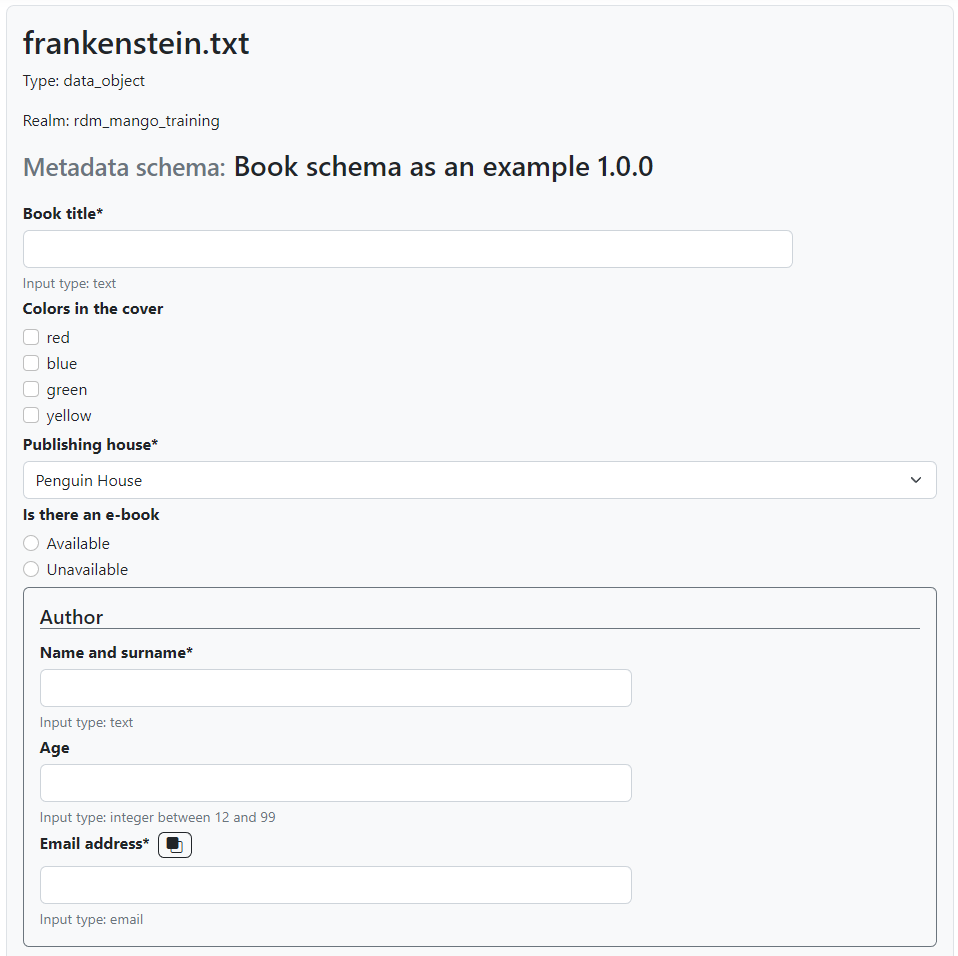 Required fields have an asterisk next to their name, simple fields have a short description under their input fields and repeatable fields have a button that can be used to duplicate them.
If a required field is not filled, it won't be possible to save the metadata. Once we do save it, we can see the results in a tab inside the "Metadata" tab of the object. Fig. 1.21 shows that the user-facing label of the schema, not its name, is used to name the tab, and that the labels of the different fields are used in the table that shows the current annotation. Hovering over the labels will show a small popover with the name that the AVU takes in Tier-1 Data, e.g. mgs.book.title for the book title, mgs.book.author.email for the email address inside the Author composite field, etc. Moreover, fields for which no values have been provided can still be seen as empty, to indicate that the schema has not been completely implemented.